With a new year just around the corner, weather folks have been
predicting all week
that a major storm
will strike
as the islands crosses the threshold into 2005. As of this morning, the storm has
already begun to drench Kauai
.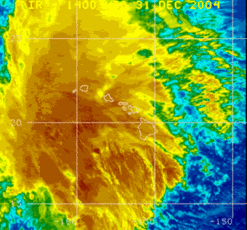 Of course, folks are constantly haunted by the memory of the 1987-1988
New Year's Flood
, which caused nearly $34 million in flood damage. But worry
isn't the only emotion
swirling around in the high winds. "Our fire department people are happy because it will be a wet and rainy fireworks night," Kaua'i Civil Defense spokesman Mark Marshall told the
Honolulu Advertiser
. "But they are the only people happy at this point."